As well as our investment in technology and new propositions to meet the needs of our customers, we have invested in a range of initiatives to support our strategy to serve customers brilliantly.
Our Customer Board is the principal executive committee responsible for the oversight and delivery of the UK Customer Plan. The Board is chaired by our Chief Executive Officer and includes senior executives and business heads. Its focus includes: enhancing customer experience, driving improvements in complaint management and resolution and supporting vulnerable customers.
Our Vulnerable Customer Programme is working to empower colleagues with the skills, knowledge and confidence to support the needs of vulnerable customers. In 2020, we have a network of 100 vulnerability Champions across our business.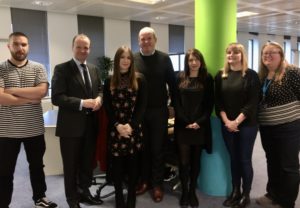 A new centralised Bereavement Team is now operational, providing a dedicated team focused on supporting bereaved customers and relatives.

The Northern Ireland business was recently awarded 'JAM Card Friendly' status. The JAM Card Initiative, allows people with learning difficulties, autism or communication barriers to tell others they need 'Just A Minute' discreetly and easily.

We continue to assist customers through the uncertainty of
Brexit
, the transition period and plan for the future. We helped to develop a
Brexit Portal
to bring together insights, practical information and useful tools to help businesses prepare appropriately, and established a £1.75 billion All-Ireland Brexit Fund to enhance our capacity to meet the needs of customers and support cross border and international trade.