Chief Executive Officer
Desmond Crowley
Appointed Director of BOI (UK) plc in September 2009. Appointed CEO of BOI (UK) plc in March 2012. Joined BOI Group in 1988. In March 2000, became a member of the Group Executive Committee, on being appointed Chief Executive of Retail Banking Ireland. Appointed Chief Executive of UK Financial Services, Director of Bristol & West plc and BOI UK Holdings plc in January 2006. Appointed Director of the Parent in October 2006, until his retirement from this position in June 2011. Appointed as Chief Executive Officer – Retail (Ireland & UK) in May 2009 and Chief Executive – Retail UK Division in March 2012.
Previously Chairman of Post Office Financial Services. A Director of First Rate Exchange Services, the foreign exchange joint venture with UK Post Office. He is also a Director of New Ireland Assurance Company plc.
Qualifications: BA (Mod) Econ, FCMA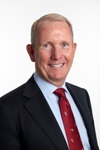 Thomas McAreavey - Chief Financial Officer

Thomas was appointed Chief Financial Officer in March 2017, and in addition, Interim Operations Director in February 2018.  He has over 15 years' experience in the Bank of Ireland Group, having held various senior management positions within Finance, including leading a range of strategic projects for BOI. Prior to that, he held a management position within Pricewaterhouse Coopers. He is a Fellow Chartered Accountant.

Thomas is also a director of a number of BOI Group subsidiaries.
Neil Fuller - Chief Risk Officer

Neil was appointed Director of Bank of Ireland (UK) plc & Chief Risk Officer in October 2015.

Neil joined Bank of Ireland from GE Capital UK, where he held the role of Chief Risk Officer since 2011. Neil has over 30 years of financial services experience, having previously worked for NatWest and Royal Bank of Scotland.
John Tudor - Partnership Director

John joined Bank of Ireland Group in 1998 and has worked in a variety of Finance, Strategy and Operational roles within the UK business, including working extensively with the Bank's financial services partnerships with the Post Office and the AA. He was appointed Partnership Director in February 2018, having previously held the role of Chief Operating Officer.

Before joining Bank of Ireland, John worked as a Chartered Accountant with Moore Stephens (Bath) having qualified with BDO Binder Hamlyn (Manchester).

John is a graduate of the University of Manchester and is a Member of the ICAEW.
Mike Joyce - Commercial Director

Mike joined Bank of Ireland in 1997 from Bristol & West and has spent the last 20 years in a variety of Senior Management roles within the Bank. After successfully managing several finance roles, Mike was appointed Finance Director for Personal Lending Businesses in the UK in 2001.

This was followed in 2005 by his appointment to Managing Director of Bank of Ireland Mortgages based in Reading, taking on full responsibility for the consolidated Mortgage business in 2009. In 2012 Mike was appointed Director of Consumer Banking for the Retail UK division, and Commercial Director in February 2018.
Amy Burke - HR Director

Amy was appointed Retail UK HR Director in August 2012, with responsibility for HR, Culture, Customer & Brand and Communications. She has over 20 years' experience in the Group, and has held a number of senior appointments in Ireland and internationally, including HR Director for Corporate & Treasury Division and Group Manufacturing and Head of HR & Training for Bristol & West.  Prior to that, Amy held Senior Management roles in Business Banking, the Retail Transformation Programme and Strategic HR.

Amy is a member of BOI UK plc's Executive Committee.

Qualifications: BSc Finance, University College Cork, and studied at IMD Lausanne and The Ross Business School, University of Michigan.
Richard Exton - Strategy and Transformation Director

Richard joined Bank of Ireland Group in 2014 and has held a number of senior management roles in Consumer Banking and the Office of the Chief Operating Officer, where he had responsibility for strategic initiatives covering PSD2 and Open Banking, Payments, Change and Digital capability. Richard was appointed Strategy & Transformation Director in February 2018.

Prior to joining Bank of Ireland, Richard held a number of senior management positions in Retail and Business Banking at Barclays, spanning 20 years in front line leadership, customer proposition and innovation, strategy and business transformation roles across UK and Western Europe. Richard holds an MBA from London Business School and a BSc in Modern Languages & Marketing.