The pandemic imposed working from home on many of us, but nearly 18 months later since we went into the first lockdown, working from home is here to stay as a part of a new hybrid form of working.
Bank of Ireland's Ways of Working survey found that 91% of us said we'd like to work flexibly, through a combination of working from home and working from an office. Rethinking the traditional office model has always been a key part of our vision for the future of work at Bank of Ireland, but the development and implementation of a longer-term hybrid working model was accelerated as a result of COVID-19.
This hybrid working model was designed to reduce time and money-sapping commutes, but it has also revolutionised the way in which we work with greater flexibility. We are going to see less of the old way of doing things, like travelling through rush hour to do something at the office that could easily have been done from home.
Of course some roles will always require that people are in the office and our central offices still have an important role to play which is why our colleagues will have access to designated work neighbourhoods complemented by four agile hubs contained within our administration buildings by the end of the year, with meeting spaces and bookable desks with the potential for more hubs in Northern Ireland. A wide range of support for colleagues working from home, including providing equipment to meet safety and ergonomic requirements and ongoing investment in digital solutions, will enable greater team collaboration. Our new model will see office space being used primarily for meetings, collaboration, project engagement and delivery, and building connections, while remote locations will be more suitable for work that can be progressed individually or that is more task based.
Ultimately, our new system offers much more flexibility and choice, blending home and office working with less commuting time and cost and a greater work-life balance and things don't look like they'll ever be going back to how they were at the start of 2020.
I for one am looking forward to not working from home every day, but I also have no desire to be going back to travelling in to the office as much as I did before.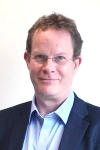 By David Carrie, Operations Director at the Bank of Ireland UK