Banking and financial services haven't traditionally been seen as the most diverse industries but thankfully that's changing. It's long been recognised that a diverse team brings distinct benefits. If a business consists of people from different backgrounds, their views will be more varied, companies have a bigger pool of ideas to pull from and will generate better outcomes and performance as a result.
At the heart of Bank of Ireland's purpose is our commitment to Diversity and Inclusion: To foster an inclusive working environment where all colleagues are enabled to reach their full potential – and to attract, promote and retain diverse talent at all levels. That's why I am delighted to announce that Bank of Ireland has launched an Ethnic Minority Talent Programme, designed to help accelerate ethnic minority colleagues into management positions.
As part of this programme all of Bank of Ireland's 2,200 people managers have committed to completing Unconscious Bias training by the end of 2021.
We have also introduced a Recruitment Charter to measure the recruitment of diverse candidates and introduced an Ethnic Minority Talent Programme (RISE) and Black British Business Talent Accelerator programme, the first of their kind in Ireland, which are designed to support the development and acceleration of careers for ethnic minority colleagues.
We have implemented changes to our HR systems to record personal diversity data. This baseline supports the setting of targets for representation and measurement of potential pay gap for ethnic minorities.
We know that diversity and inclusion in the banking sector is still a work in progress and across financial services we must all do a lot more to ensure that we are consistently improving our diversity figures.
We are committed to making real change and in March of this year, Bank of Ireland announced that it is a signatory of the Race at Work Charter UK, which is committed to improving equality of opportunity in the workplace.
The Bank has also partnered with Dublin City University on the development of a Race Equality hub for employers in Ireland to the support the development of a Race Charter equivalent for ROI.
At Bank of Ireland, we are committed to addressing the key challenges facing society today and to building a fulfilling workplace for all, that supports diversity and inclusion. Supporting our ethnic minority colleagues at the Bank and ensuring that we are doing more to attract and recruit candidates with diverse backgrounds is vital to ensure that we best represent the customers and communities we serve. This isn't just about words – we are taking action. Through programmes like RISE, and by scaling our colleague training in areas like Unconscious Bias to all people managers by the end of 2021, we intend to make measurable progress.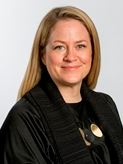 By Louise Batchelor, Chief People Officer, Bank of Ireland UK