Bank of Ireland UK to release new polymer £20 note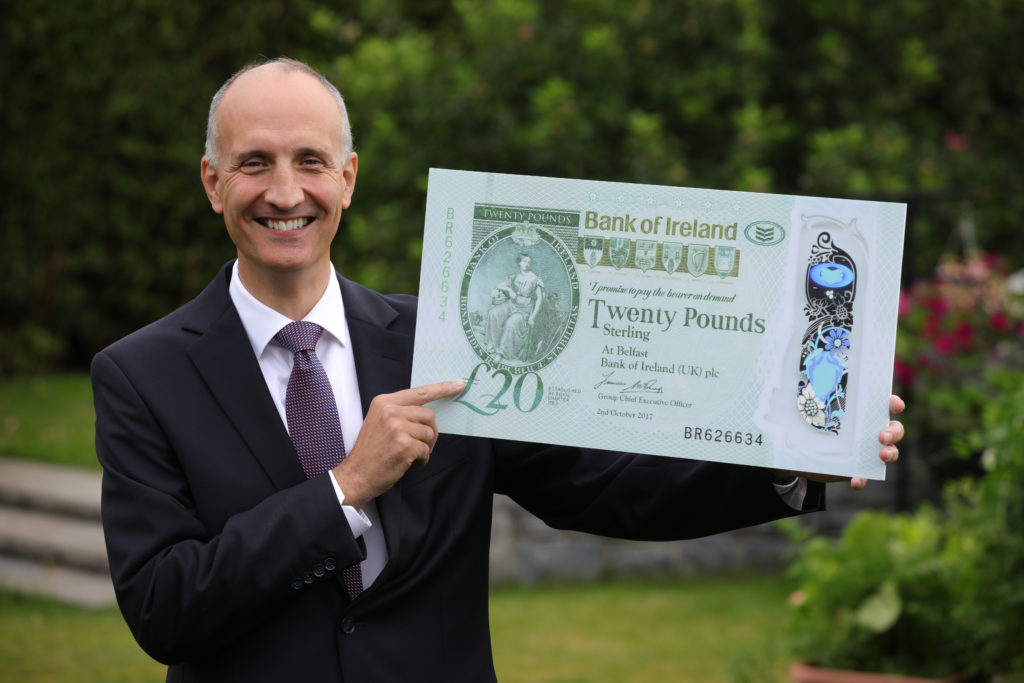 6 July 2020
Bank of Ireland UK has announced its new polymer £20 banknote will go into circulation from 20th July 2020.
The new £20 note will retain the iconic image of The Old Bushmills Distillery, in County Antrim, the world's oldest licensed whiskey distillery.
The note will also include enhanced security features, including a holographic stripe and a clear window which can be seen from both the front and back of the note. As part of the security feature, the note will also include a shiny, iridescent area of ink which changes colour as you tilt it.
In addition to security elements, the £20 polymer note will incorporate a tactile feature with three arrangements of four dots in a square formation, enabling physical identification for the visually impaired.
The £20 polymer note features Bank of Ireland Group Chief Executive Officer Francesca McDonagh as the signatory.
Ian Sheppard, Managing Director NI, Bank of Ireland UK, said: "As the largest issuer of banknotes in Northern Ireland, the unveiling of our new £20 polymer banknote is an important milestone in our history. Bank of Ireland UK remains at the forefront of banknote design technology and we have committed to polymer notes because they are cleaner, more durable, more environmentally friendly and, with enhanced features, they are more secure than ever before.
"When we released our £5 and £10 polymer banknotes last year, it was the single biggest change to our banknotes in Northern Ireland in living memory.
"Our switch from paper to polymer for our £5, £10 and £20 notes is an example of our innovation and commitment to meeting the evolving needs of consumers as well as our environment, so I'm delighted that we are continuing the transition from paper to polymer."
The withdrawal date for the paper £20 notes has yet to be announced. There are currently no changes to the £50 which is also part of the Bushmills series, or to the £100 banknote, which is part of the Queen's University Belfast series.
The current banknote design first went into circulation on April 22, 2008 to coincide with the 400th anniversary of King James 1 granting a license to the area around Bushmills to distil whiskey. The £5 and £10 notes bear the signature of the bank's UK Chief Financial Officer, Mr. Thomas McAreavey.