Bank of Ireland UK steps up support for Alzheimer's Society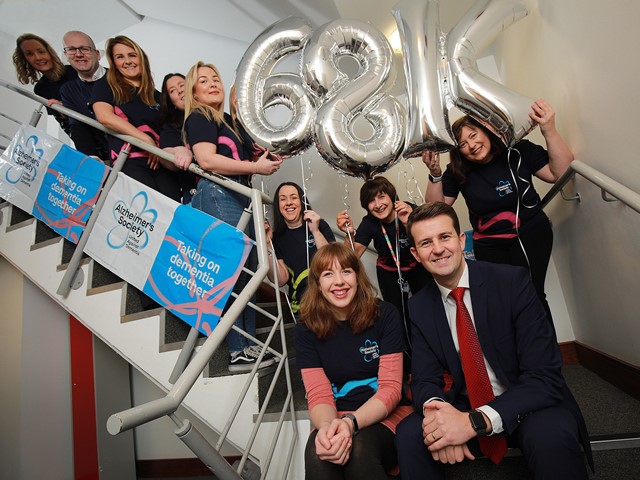 Pictured at Bank of Ireland UK headquarters in Belfast where the step challenge took place is William Thompson, Head of Consumer Banking NI, Bank of Ireland UK and Ciara Jemphrey, from Alzheimer's Society with some members of the team from Bank of Ireland UK who took part in the challenge.
4 December 2018
Recently, Bank of Ireland UK staff stepped up their fundraising efforts for flagship charity partner, Alzheimer's Society, as they took part in a UK-wide Step Climb Challenge.
More than 150 employees from the bank's head office in Belfast smashed their target of 68,000 steps, representing the number of people who died from dementia last year. The vital funds raised support Alzheimer's Society's life-changing Side by Side Programme, which promotes dementia friendly communities and helps people with dementia to keep doing the things they love by pairing them up with local volunteers.
The partnership between Bank of Ireland UK and Alzheimer's Society, which began in March 2017, was recently recognised at the Dementia Friendly Awards with the bank being named 'Large Organisation of the Year' and a finalist in the 'Uniting Against Dementia- Outstanding Contribution 2018' award. Since the bank chose Alzheimer's Society as their dedicated charity partner, Bank of Ireland UK in Northern Ireland has donated more than £85k to the charity.
Speaking about the initiative, William Thompson, Head of Consumer Banking NI, Bank of Ireland UK commented, "This Step Climb Challenge is further proof that our Bank employees have really taken our partnership with the Alzheimer's Society to their hearts and we are delighted that our work is not just about raising funds but also awareness and taking action. Today's step challenge is an embodiment of this endeavour.
"So many lives across Northern Ireland are both directly and indirectly impacted by this condition and we're happy to be making progress in becoming a more dementia friendly business. We're also thrilled to have been recognised at the Dementia Friendly Awards and what makes that even more special is that the awards are nominated and judged by people from Alzheimer's Society and people living with dementia who avail of the Society's services."
Ciara Jemphrey, Services Manager at Alzheimer's Society added, "We want to say a massive thank you to Bank of Ireland UK for truly uniting with us against dementia through their ongoing support, awareness raising and fundraising efforts. Partnerships such as this enable us to be here for everyone in Northern Ireland affected by dementia, and we look forward to continuing our work together."